Main Menu: Activating Collector Sleep Modes
The Collector Sleep Modes are the actual operating modes of the system. The first image below is a screen capture of the Main Menu, with pointers inserted to indicate the Sleep Mode functions. The second image shows the information screen that appears when you select the Activate Sensors: Short Sleep menu item.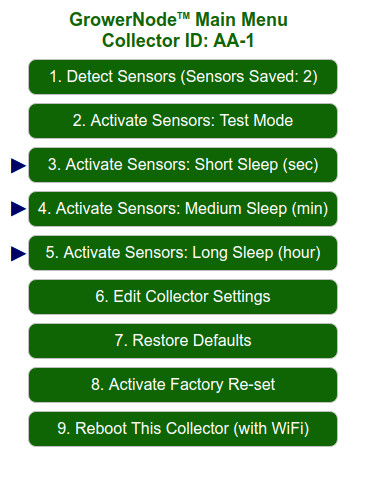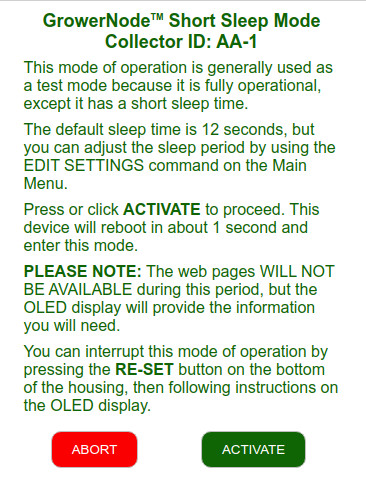 There are 5 important points to be emphasized about activating the sleep modes:
The Collector system goes into a deep sleep, so the

web server is NOT AVAILABLE

. The OLED will provide visual cues when the system wakes up, but it turns OFF when the system goes to sleep.
If you want to interrupt the sleep mode and

activate the MAIN MENU

, please press and release the

button

on the bottom of the unit, then enter the IP address on the OLED display into your browser address field.
The sleep modes are

identical in behavior

, except for the sleep duration.
If this is the first time you have used this unit,

it will not transmit any data

until you enter a host IP address for the MQTT data destination in the

Edit Collector Settings

area. MQTT is the WiFi protocol it uses to transmit the data; please review that section for more information.
The Short Sleep mode is primarily for test purposes (default timing is 12 seconds of sleep time), so that you can check that all your sensors are working properly. If you actually need to use this mode to monitor your sensors often, please keep in mind that

the power requirements will be relatively high

. If you are using our AC adaptor, this may not be a concern, but if you use our optional solar powered USB battery unit, it will be a consideration. A longer sleep mode reduces the power requirements considerably, especially if you have a lot of sensors in the saved list.
We recommend that you follow the instructions from the beginning; here is the previous article if you haven't seen it yet (see the full article series at the bottom of this page).
Please note that the default Collector ID has already been set, but you can change that in the "Edit Collector Settings" menu area.
You can purchase the soil moisture sensors, along with the Collector units in our sister DIY online store DIY online automation store.
We sincerely hope you enjoy our advanced technology products; if you have any questions, please contact us at any time!
Adrian Biffen
Senior Partner
GrowerNode™ Greenhouse Automation
G.R.O.W.S.™ System Article Series